When you're looking for the best tool for great text-to-speech software, it's actually not an easy choice!
As technology advances, more and more companies are providing users with TTS programs that can create speech from text using emotional AI-generated voices. If you've been looking around at your options, you'll know just how many are out there, and how high-quality these voiceovers sound!
And anyone who's compared these programs usually narrows their search down to just two programs:
Speechelo and Speechify
We're happy to be compared to Speechify, which offers some amazing features for TTS users! And as one of the alternatives to Speechify, we wanted to talk a little about the differences and similarities between these two options.
We'll break down features and costs, so you can see which works best for you!
How Much Does Speechify Cost?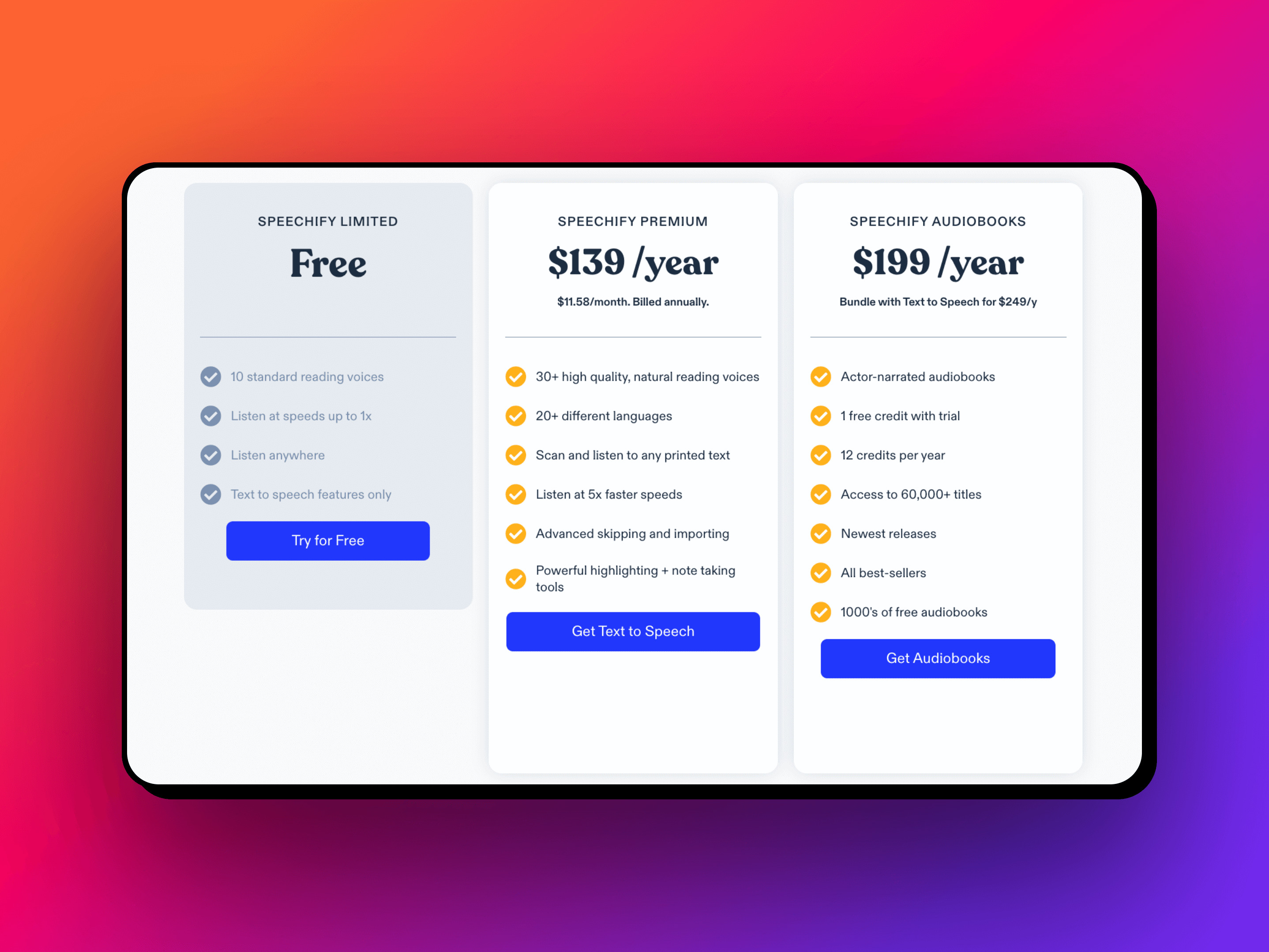 Lots of people want to know what they're going to be spending if they choose to use Speechify, googling things like 'how much is Speechify premium'? 
Speechify has two-tier levels for text-to-speech: Free and Speechify Premium.
Their Free tier is the reason why many people are interested in using Speechify, and that's no surprise! Free users can access a limited version of the features Speechify offers.
Speechify Premium offers more features and costs $139/ year. This is billed annually and breaks down to $11.58 per month.
How Much Does Speechelo Cost?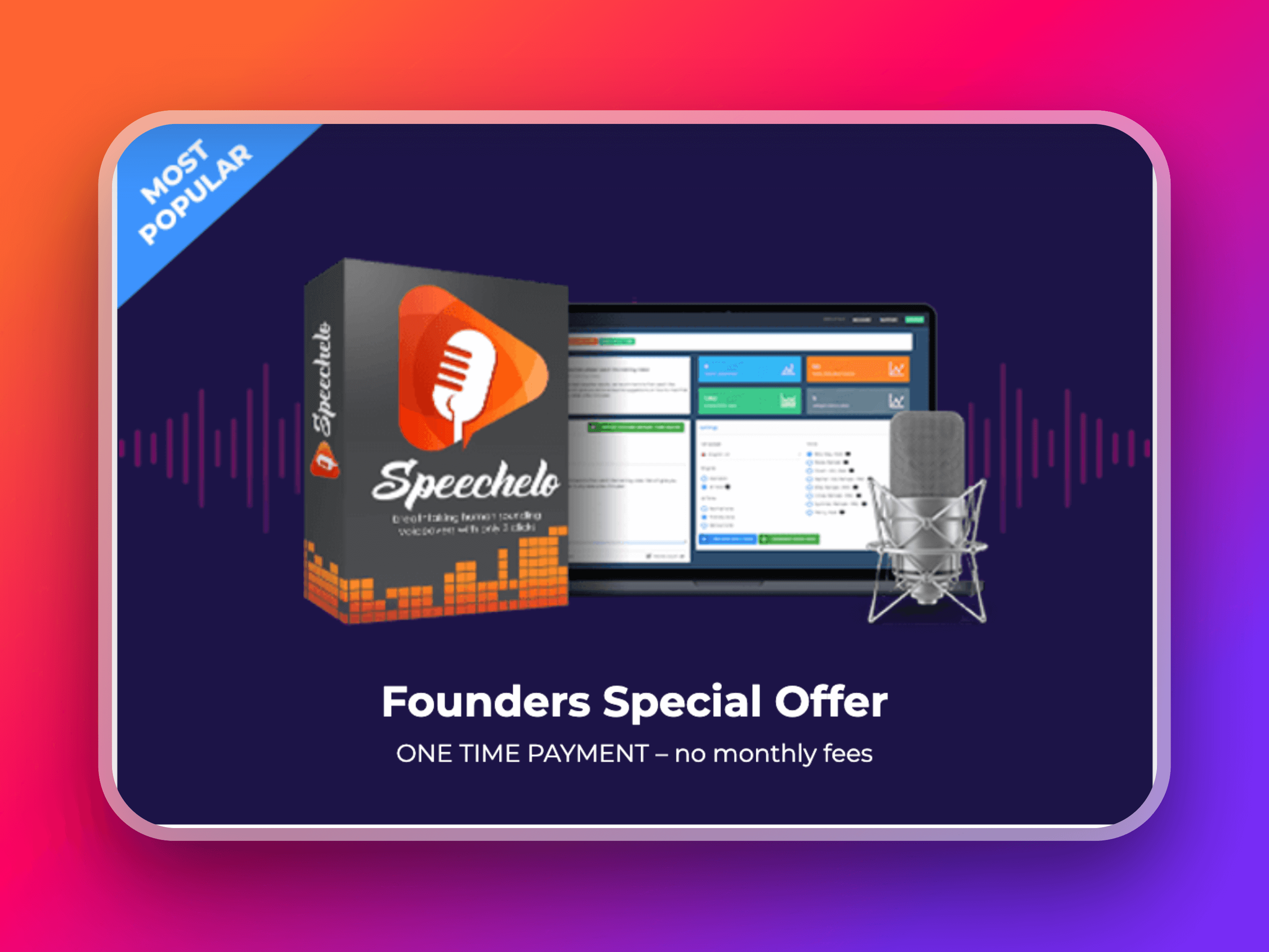 Speechelo uses a different pricing model: Speechelo offers a monthly pricing model, and a one-time fee model. This is why people who prefer the one-time payment model consider Speechelo to be one of the best Speechify alternatives. 
Users can choose to pay $67/month for Speechelo, or they can choose to purchase it for a one-time fee of $100.
Those are the normal offers; however, the limited-time FOUNDERS SPECIAL OFFER gives users a huge discount on the one-time price! Speechelo is being offered for over 50% off its usual price.
Anyone who takes advantage of the Founders Special Offer can get lifetime use of Speechelo for just $47! 😍
The one-time purchase includes a 60-day money-back guarantee, and users also receive free updates automatically, so they never have to worry about manually updating their software. 
What are Speechify's Features?
The difference between the Free and Speechify Premium costs is due to the fact that you get access to different features based on what you pay for. 
Free accounts have access to 10 standard English-speaking reading voices that you can use to generate speech from text. You can listen at standard speed, and use the cloud-based app to listen to audio on the go. 
However, many people that use the free version of Speechify soon realize that the Speechify Premium features are the ones they really want to use.
Speechify Premium users pay $139/year to access:
✔️ 30+ voices
✔️ 20+ different language options
✔️ Ability to listen at higher speeds
✔️ The ability to scan printed text
✔️ Advanced skipping and importing
✔️ The ability to listen offline
✔️ Note-taking capabilities
As you can see, the change to Speechify Premium makes a big difference. For many people, these are the features that they wanted to start using TTS for, so the free version doesn't meet their needs.
Their 30+ voices include different tones and emotions, as well as accents. Instead of only English, users have support for over 20 languages.
Skipping and speed control are also highly important features to people using TTS for productivity. Being able to control the speed at which they're listening makes a huge difference in their workflow! This also goes for the ability to import and download the audio to take it with them.
The ability to scan printed text and take notes in the app are two features which some people will really appreciate, particularly students who work with physical pages or homework. However, not everyone finds a lot of use in these, given that most work is done digitally.
What Are Speechelo's Features? 
Purchasing Speechelo through either the one-time fee or the monthly billing option will give you access to all of these features:
✅ 30 human-sounding voices
✅ 23 language options
✅ Online text editing to check text and add punctuation for natural-sounding speech
✅ Voice tones, like seriousness and joy
✅ Full customization for speed and pitch 
Speechelo gives you access to 30 different natural and unique voices in a series of different tones and personalities, and lets you choose from language options like Spanish, Mandarin, Arabic, Japanese, Russian, Portuguese, Korean, and more! The similar amount of available voices and languages makes it a strong Speechify alternative. 
Adding voice tones to your text-to-speech audio adds a whole new level of authenticity and realism. With these added emotions, you can experience the full range of moods and tones that will make listening more engaging!
You can also control the speed and pitch of your voiceover, making it go faster during exciting text, or slow down during moments that need a longer amount of time.
And voice tones add extra personality to these voices, letting you have full control over the final product!
Speechelo versus Speechify
Obviously, there's no clear winner here! Both Speechify and Speechelo, the Speechify alternative, are tools that will give you so many ways to create great TTS, and which you choose ultimately comes down to what you're looking for.
Speechify's free tier is very appealing to users, but they usually find that it doesn't offer them what they're looking for. Speechify Premium gives them more features, paid for through an annual fee.
Speechelo doesn't have a free version, but its one-time payment option, control over speed and pitch, and emotional tones make it a very popular Speechify alternative.
Of course, one other thing people are loving about Speechelo is that Founders Special Offer I mentioned earlier! 
For a limited time, you can get 50% off the usual price ($100) of a one-time payment…
Want to get lifetime use of Speechelo for just $47?