For amazing text to speech with emotion, people want to make sure they're finding the best programs available. Even if there are several popular options for TTS software, you obviously want one that's going to give you great features for your investment!
For a realistic voice generator with emotion, two options that lots of people arrive at are Speechelo and Revoicer. 
These are both really popular options to create emotional text to speech, and users for either program will say it's clear why one is the winner. 
So today, we wanted to break down the pricing and features of Revoicer and compare them to Speechelo, so you can see which is right for you!
How Much Does Revoicer Cost?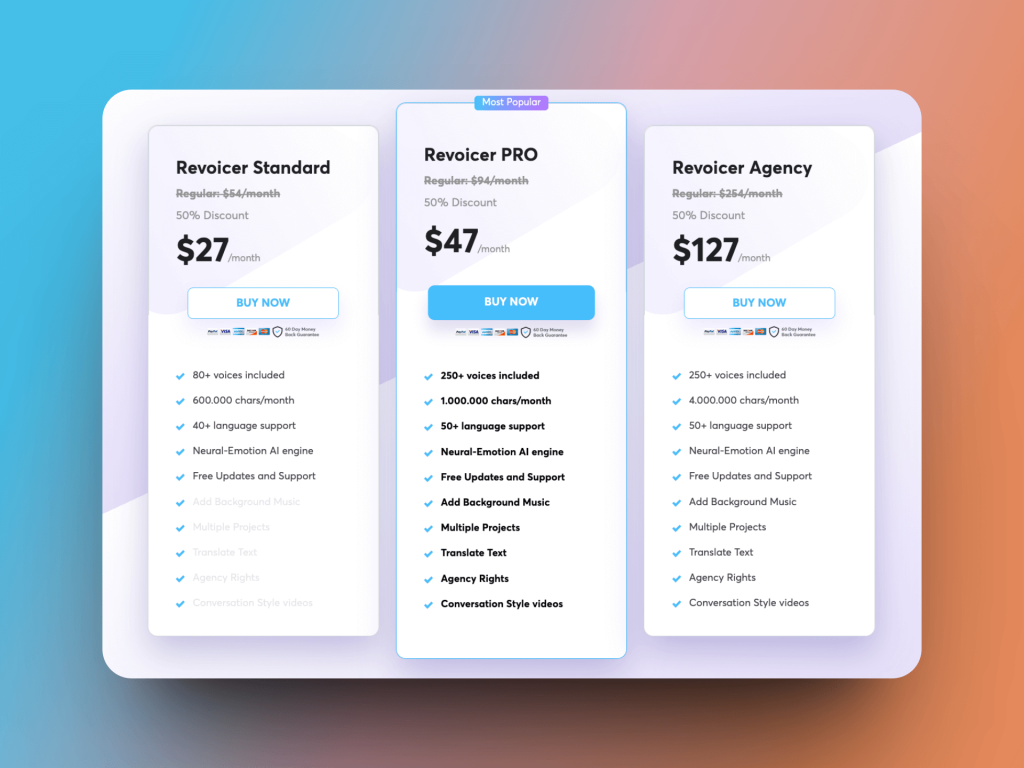 Revoicer has a few different options for pricing based on the features you want to access.
Revoicer Standard is the tier that many users choose, and it costs $27/month. It offers all the core features that Revoicer offers at a great price point, so it's no wonder that plenty of people select this option. However, you also have the option to purchase Revoicer as a one-time payment of $67.
Revoicer also offers a Pro option, which offers more features for users who might want to use Revoicer for a bigger variety of situations or projects. Pro is $47/month to access these extra tools.
How Much Does Speechelo Cost?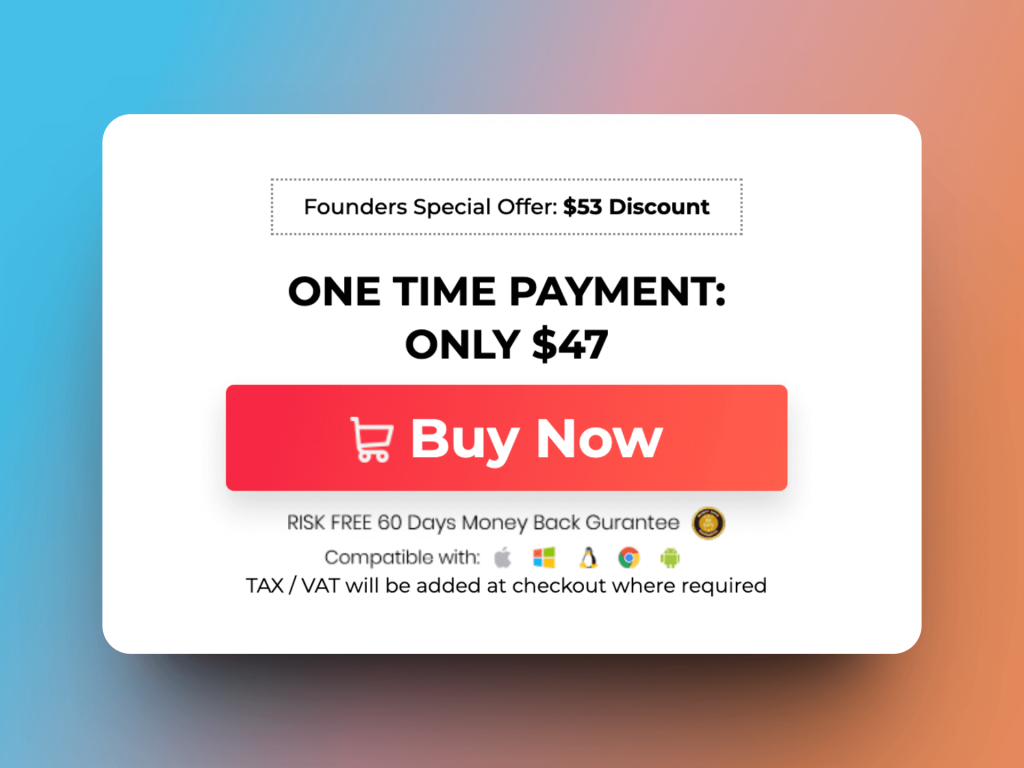 Speechelo and Revoicer have similar pricing models, which is one of the reasons why people often compare these two. You can either pay a monthly fee to use it or make a one-time purchase. 
Users can choose to pay $67/month for Speechelo, or they can choose to purchase it for a one-time fee of $100. Many users choose the one-time purchase for its value, seeing as you're saving money every month after just two months of using it!
Those are the normal offers; however, the limited-time Founders Special Offer gives users a huge discount on the one-time price! Speechelo is being offered for over 50% off its usual price.
Anyone who takes advantage of the Founders Special Offer can get lifetime use of Speechelo for just $47!

What Are Revoicer's Features?

Like we said, Revoicer offers different features based on payment. We'll talk about each here.
Revoicer Standard users get:
✔️ 80+ human-sounding voices
✔️ Use for 600,000 characters/month
✔️ Support for 40+ languages
✔️ The Neural-Emotion AI engine
✔️ The ability to customize pitch, speed, and emotions
✔️ Free updates and support
The 80+ voices and ability to customize the sound, pitch, and speed for text to speech with emotions is the main draw for a lot of users. These voices have a huge amount of variety, and with the ability to use over 40 languages, you have so many options!
You can generate your voiceover with a specific text to speech emotion, but then go in to adjust the pacing and delivery for amazing voiceovers. Plus, with free updates and the ability to use 600,000/month, users get plenty of use out of their membership.
Revoicer Pro users get these same features, but even more options: 250+ voices, 1,000,000 characters per month, 50+ language support, a background music library, the ability to create conversation-style audio, and agency rights. Obviously, all these features make Pro an incredibly popular choice for people who want even more variety, and for anyone who wants to use their voiceovers commercially. 
What Are Speechelo's Features?
Like Revoicer, Speechelo offers some great tools for text to speech with emotions. One-time purchase users or monthly payment users get:
✅ 30 human-sounding voices
✅ 23 language options
✅ Online text editing to check text and add punctuation for natural-sounding speech
✅ Voice tones, like seriousness and joy
✅ Full customization for speed and pitch 
30 different natural and unique voices in a series of different tones and personalities create emotional text to speech. You have access to 23 commonly-used languages, like Spanish, Mandarin, Arabic, Japanese, Russian, Portuguese, Korean, and more!
Being able to control speed is a huge asset for anyone who wants to use TTS for improved reading comprehension. You can slow the audio down, or speed it up, depending on what works best for you.
And you have another level of control when you add in being able to control emotion and pitch. While every Speechelo voice will read your text with authentic emotions, you can fine-tune your listening experience by choosing what moods and emotions you want to hear!
Speechelo versus Revoicer
While these two have a lot in common – they're some of the top choices for generating text to speech with emotions – they also have plenty that sets them apart from each other. There isn't a clear winner, here, but we'll try to break down some of the main reasons why people choose one or the other.
Revoicer offers a huge amount of customization: over 80 voices in over 40 languages, control over pitch, tone, and speed, and the ability to bring out a lot of emotion in your voiceover. Pro users unlock even more customization, too! Revoicer is a great choice for users who know that they need the ability to really customize their text-to-speech.
On the other hand, Speechelo also lets you create a pretty wide range of voiceovers! 30 voices in over 20 lanugages let you choose how your audio will sound, and the ability to add in breathing noises and pauses adds an extra hint of realism. Its lower one-time cost is also a huge bonus.
For these reasons, Speechelo comes out on top!😍
Revoicer is definitely a close second, though; if you know you'll want to have an even higher level of customization – more voices, emotions, and the option for additional features – it's a great option to consider. 
But based on how Speechelo answers so many of the most important text to speech needs for a great price, it's a clear winner! It has everything you need to create amazing audio built right in to the basic package, so it's the only software you'll ever need.
Do you want to take advantage of that deal I mentioned earlier? 
Great news: you can do that right now!
The Founders Special Offer is still happening, meaning that the usual $100 one-time payment is getting reduced by huge 50% discount!
Want to get lifetime use of Speechelo for just $47?